So, you know how life in the entertainment biz can be a rollercoaster, right? Well, here's one twist we didn't see coming: the SAG-AFTRA strike. But guess what? It's not all gloomy clouds – there's a silver lining here for us to seize and turn into something awesome for our careers. As someone who's been in the business for over 30 years, I'm here to chat about how you can make the most of this downtime and level up your acting game.
1. Supercharge Your Skills:
Okay, picture this: you've got a bit of extra time on your hands. Why not invest some of it in honing those acting skills? Sign up for classes or workshops to try out new techniques, break some comfort zones, and maybe even unveil hidden talents. It's like a self-improvement spree that could leave you shining like a diamond when auditions start rolling in again.
2. Spice Up Your Reel:
Let's talk showreels. They're like your acting highlights reel, and now's the moment to make yours pop. Grab a friend, shoot a couple of scenes that show off different sides of you – drama, comedy, action, the whole shebang. Having a reel that's as diverse as your acting chops? Gold. Casting directors love that stuff.
3. Online You is Important Too:
We live in a digital world and your online presence matters. Take this downtime to freshen up your website, update your social media, and maybe even sprinkle in a bit of your own unique flavor. Share some behind-the-scenes moments, and throw in some tips for aspiring actors – you're building a community and letting the industry know you're here to stay.
4. Strike a Pose – Headshot Time:
Grab your best outfit and a killer smile, and let's get you some new headshots. Your headshot's like your calling card, your first hello to casting folks. A pro photographer can capture your essence and make sure that first impression is a knock-out.
5. Network, Network, Network:
No need to turn into a networking robot, but connecting with other awesome people in the industry is a win-win. Check out virtual events, webinars, or even join online acting groups. You're not just making contacts – you're making friends who might just bring you on board for something amazing in the future.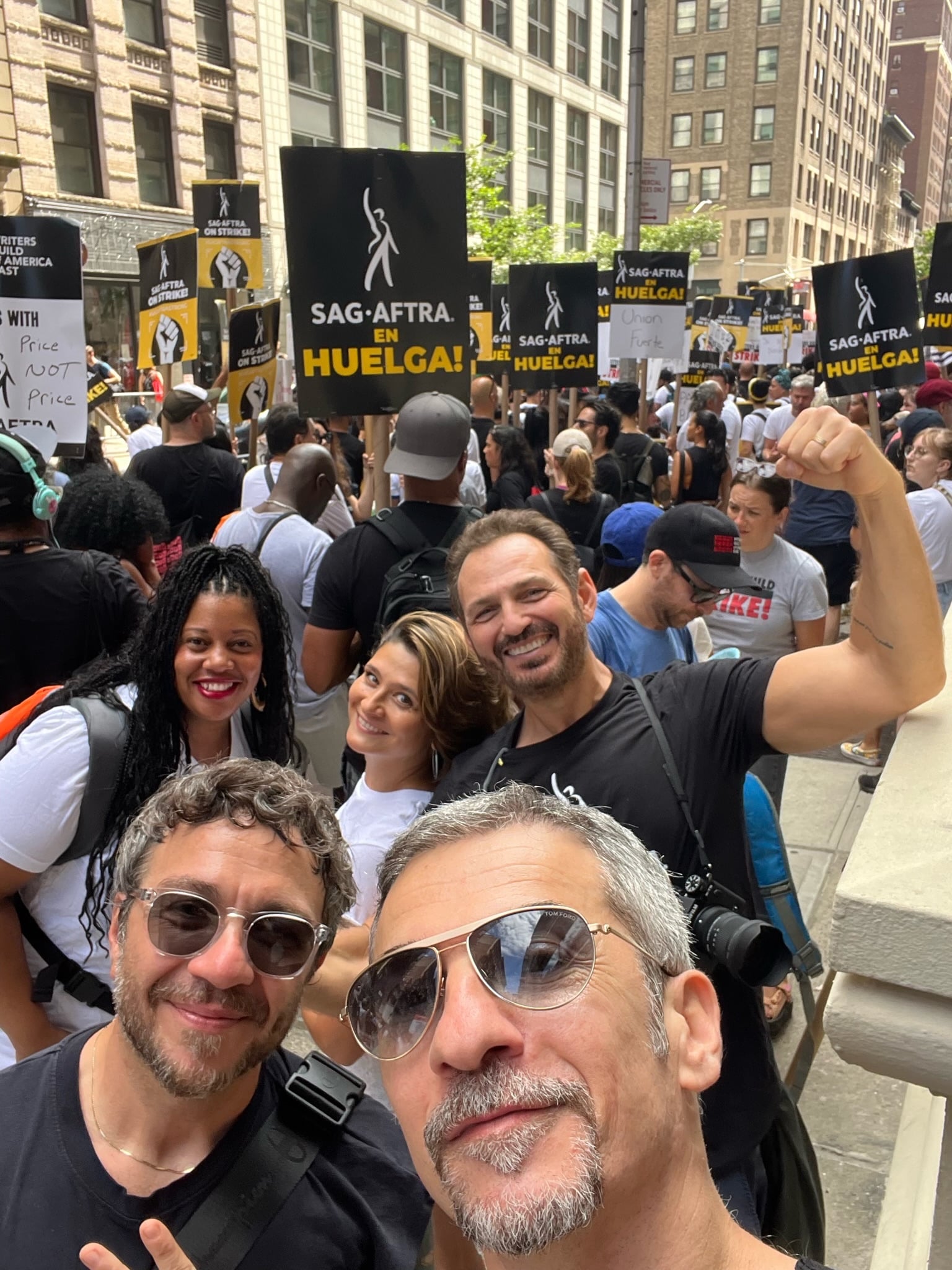 6. Lights, Camera, Create!
Ever had a wild idea for a short film or a quirky web series? Well, now's the time to let that creativity run wild. Team up with buddies who share your vision and get filming. Not only is it a blast, but it shows off your passion and that "go-getter" attitude that everyone loves.
7. Industry 101:
Use this break to dip your toes into other aspects of the biz. Learn about casting, production, or heck, even try your hand at writing a script. The more you know about how things work behind the scenes, the better you'll understand your role as an actor.
8. Keep Tabs on What's Up:
Stay in the loop about what's happening with the strike. Keep an eye on news and updates from SAG-AFTRA. When the strike's done and dusted, you'll be ready to jump back into action. This SAG-AFTRA strike? It's a curveball, sure, but it's also a chance to shine brighter than ever. Embrace it with a positive vibe, a thirst for growth, and a willingness to connect and learn. The curtain will rise again, and when it does, you'll be rocking the stage with your upgraded skills and newfound energy. Keep that creative fire burning, and remember – you're awesome, and your journey's just getting started. Break a leg, superstar!